Parades, festivals, fairs and cultural presentations celebrate and promote our shared Puerto Rican cultural and social identity, heritage and values passed down from generation to generation.

Cultural expressions and preservation organizations have long played an integral role in engaging our Puerto Rican communities across the United States. It is through our appreciation of cultural expressions that we can learn more about and communicate our history, culture, and traditions. They help to engage the Diaspora and showcase the creativity of individuals and groups. Cultural expressions include parades, festivals, fairs, music, dance, art, crafts, instruments, and narratives, or many other artistic or cultural expressions that form part of the identity and heritage of our communities throughout the United States.
In collaboration with the National Puerto Rican Agenda, the Center for Puerto Rican Studies will host, The Puerto Rican Cultural Preservation Roundtable - Encuento on Saturday, May 22nd 12:00 Noon – 3:00 PM EST (11:00 AM CST | 9:00 AM PDT). cultural preservation and expression practitioners from around the United States will discuss the challenges faced by organizations sponsoring and organizing parades, festivals and cultural events during the COVID-19 pandemic.
The following 3 panels are planned:
Best Practices: Forming & Maintaining Federal 501(c)(3) Non-Profit Status
Adonis Banegas, Executive Director, El Concilio, Philadelphia, PA
Ululy Rafael Martinez, Attorney, New York, NY
Cultural Preservation Through the Arts: Virtual Celebrations and Presentations during the Age of the COVID-19 Pandemic
Billy Ocasio, President & Chief Executive Officer, National Museum of Puerto Rican Arts & Culture, Chicago, IL
Carmen Febo-San Miguel, Executive Director, Taller Puertorriqueño, Philadelphia, PA
Parades & Festivals: Alternative Plans During the COVID-19 Pandemic
How Puerto Rican parades and festivals have adapted to the COVID-19 Pandemic
Louis Maldonado, Board Chair, National Puerto Rican Day Parade (NPRDP), New York, NY
Joe Rodriguez, President and Co-Founder, Puerto Ricans United, Inc. (PRU), New Haven, CT
Co-Sponsor:
Nilda Iris Ruiz, President, National Puerto Rican Agenda
Since 2018, Nilda Ruiz has been President of the National Puerto Rican Agenda, a national nonprofit advocacy organization created to unite, educate, and create solutions for the Puerto Rican people both state-side and on the island. She is a respected community leader and multi-award recipient for her transformative work with the Puerto Rican/Latino, African American, and other economically distressed families in Eastern Philadelphia, PA.  As the President/CEO of Asociación Puertorriqueños En Marcha, Inc. in Philadelphia, Nilda has establish APM as one of the most prominent Puerto Rican/Latino founded agencies in the nation securing over a $150-million in investments the underserved community of Eastern Philadelphia.  In 2013, APM completed Paseo Verde, a $48-million certified triple LEED Neighborhood Development, mixed-use, mixed-housing project which was the first in the country to receive that designation, and only second in the World. https://www.puertoricanagenda.org  www.apmphila.org
Moderator:
Juan J. González, Esq. – Chair, NPRA Cultural Affirmation Committee
Mr. Gonzalez chairs the Cultural Affirmation Committee for the National Puerto Rican Agenda (NPRA), a non-profit advocacy organization dedicated to serving the Puerto Rican community in the U.S. Juan has also served as Parade Coordinator for the San Juan Bautista Parade in Camden, NJ since 1989. He has held numerous official positions within the organization as a life-long member of the parade, including President and Vice President.  "JuanGo" pursued his passion for celebrating, promoting, and preserving Puerto Rican culture by organizing annual conferences of the Puerto Rican Parades and Festivals (1997-2013), serving as Parade Coordinator of the Atlantic City Puerto Rican Parade (2008-2013), and volunteering on the National Puerto Rican Day Parade (NYC), as well as parades in Philadelphia, PA, Trenton and Vineland, NJ.  Mr. Gonzalez is a licensed attorney and sole practitioner specializing in Criminal and Family Law matters.
Panelists:
Adonis Banegas, Executive Director, El Concilio
Since 2016, Adonis Banegas has served as the Executive Director of The Council of Spanish Speaking Organizations of Philadelphia (El Concilio). As Executive Director of El Concilio, Banegas oversees programs that provide social, educational, cultural, preventative and intervention services to underserved families in the Philadelphia region. www.elconcilio.net/

Dr. Carmen Febo-San Miguel, Executive Director, Taller Puertorriqueño
Dr. Carmen Febo San Miguel became Executive Director of Taller Puertorriqueño in 1999. Under her tenure the organization has grown from a budget of $600,000 to a budget of $1.3 million. During this time she has also led the artistic program by: developing new collaborations to exhibit Taller's art collection off-site; expanding artist residencies into the Philadelphia School District and nearby charter schools; established the Visítenos arts outreach program; coordinated the annual arts festival, Feria del Barrio; overseeing conceptualizing and installing of nearly 130 exhibitions; and garnered national recognition through grants from the Andy Warhol Foundation, the Knight Foundation, NEA and others. https://tallerpr.org
Louis Maldonado, Board Chair of the National Puerto Rican Day Parade  
Louis is an award-winning marketing strategist and communications professional that specializes in multicultural advertising and marketing. Louis currently serves as Board Chair of the National Puerto Rican Day Parade, where he has been instrumental in ushering in a new era for this iconic institution. In 2020, City & State, the premier media organization dedicated to covering New York's local and state politics and policy, named Louis as one of the "Latino Power 100," a list of distinguished leaders that have helped promote and shape diversity in New York. He was also recognized by the ANA Educational Foundation (AEF) as one of their "50 AEF Talent Champions," which includes noteworthy individuals that represent Fortune 100 companies leading advertising agencies, publishers and other media companies that have helped promote the study of marketing and advertising by fostering ties between their industries and academia.  www.nprdpinc.org/
Ululy Rafael Martinez, Attorney and former Vice Chairman of the National Puerto Rican Day Parade 
Ululy Rafael Martinez began his legal career in public service as a staff attorney for the Bronx Defenders. Ululy's interactions with the local community, as a public defender, lead him to accept a position as General Counsel to a New York City Council Member. Ululy acted as a legal resource to constituents trying to navigate housing, debt, bankruptcy, social security, judicial proceedings and not-for-profit matters. He has served as Vice Chairperson and Executive Board member for the Board of Directors of the National Puerto Rican Day Parade, Inc.
Billy Ocasio, President & Chief Executive Officer, National Museum of Puerto Rican Arts & Culture
Billy Ocasio has served as Executive Director of the National Museum of Puerto Rican Arts & Culture (NMPRAC) since 2012. NMPRAC is the only museum in the country outside of Puerto Rico dedicated exclusively to Puerto Rican arts and culture. Under Billy Ocasio's leadership, the museum's budget has tripled, staffing has grown, and visitor attendance has increased 67%. In 2012, NMPRAC was named the latest City of Chicago's Museums in the Park, making history as the first new addition in over 20 years. He was recently spotlighted in Americans for the Arts.
Billy Ocasio is a former senior advisor to Illinois Governor Pat Quinn appointed to work on social justice issues, served as the Director of Community Affairs for the Illinois Housing Development Authority, as well as the 26th Ward alderman in the Chicago City Council.   https://nmprac.org
Joe Rodriguez, President, Puerto Ricans United: Puerto Rican Festival of New Haven
Joseph Rodriguez is currently the President and Co-Founder of Puerto Ricans United, Inc. (PRU), the umbrella organization that sponsors the Puerto Rican Festival of New Haven, Connecticut.  After Hurricanes Irma and Maria, working with his board of directors, sponsors, and community partners, and the City of New Haven, a collaborative initiative was launched called, "New Haven 4 Puerto Rico".  This initiative was a success raising over $100,000 and two advocacy trips to Washington D.C. and continues to promote the Puerto Rican culture while actively engaging the broader Puerto Rican community in Connecticut on the importance of civic engagement.   Joe has previously served on the FLECHAS Inc.'s (Loiza Festival) Board of Directors and was a Board Member with the former CT State Puerto Rican Day Parade. He currently serves on the National Puerto Rican Agenda's Board of Directors and is a regular at many cultural parade/festival discussions held by the Center for Puerto Rican Studies at Hunter College. https://www.facebook.com/PuertoRicansUnitedInc

The Puerto Rican Cultural Preservation Roundtable - Encuento is co-sponsored by the National Puerto Rican Agenda
National Puerto Rican Day Parade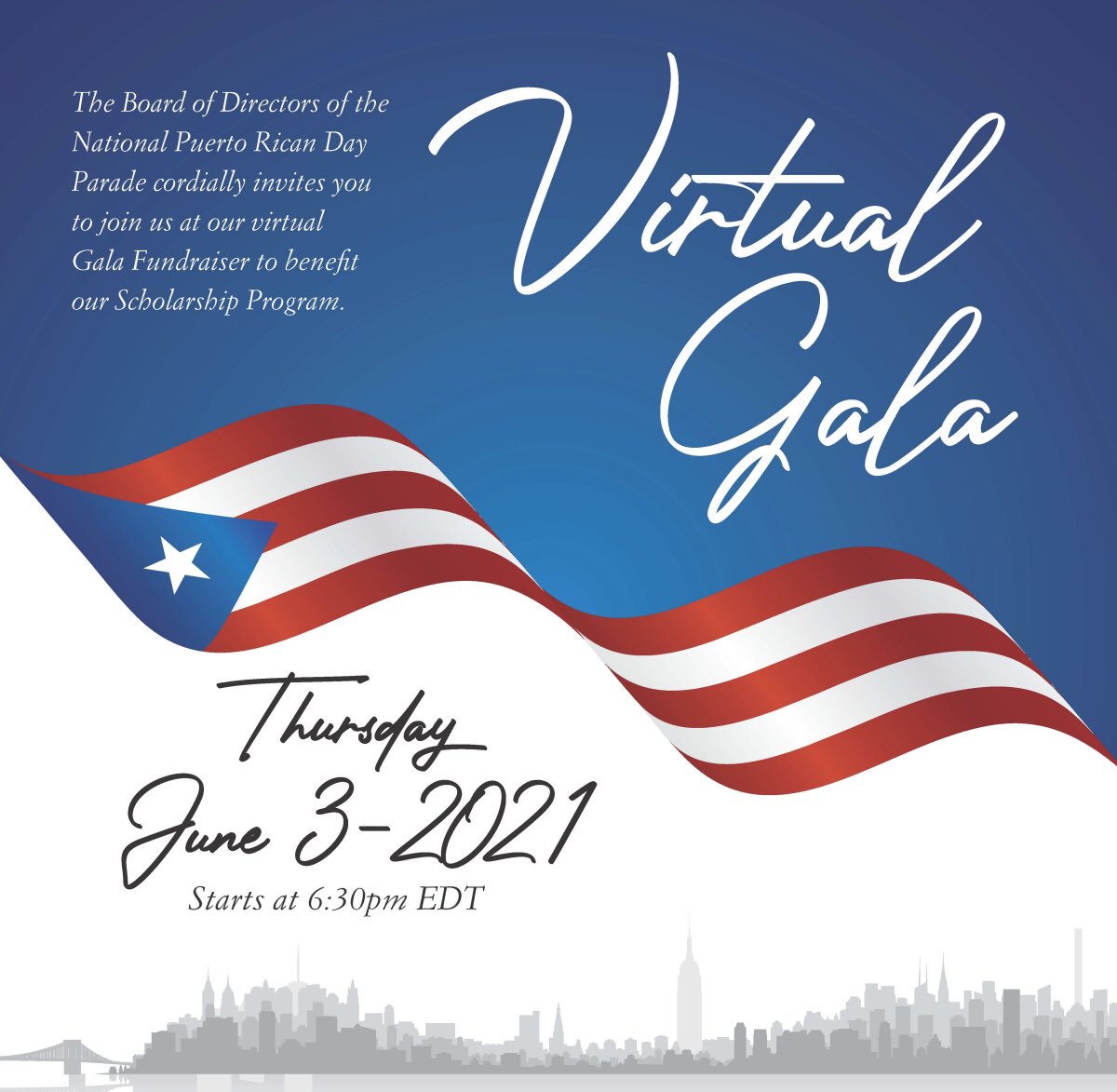 Website: https://www.nprdpinc.org/

Puerto Ricans United, Inc. — Puerto Rican Festival of New Haven
Where: Virtual Event
12:00-3:00 PM Eastern Standard Time
WHEN
Liquid error: undefined method `day' for nil:NilClass